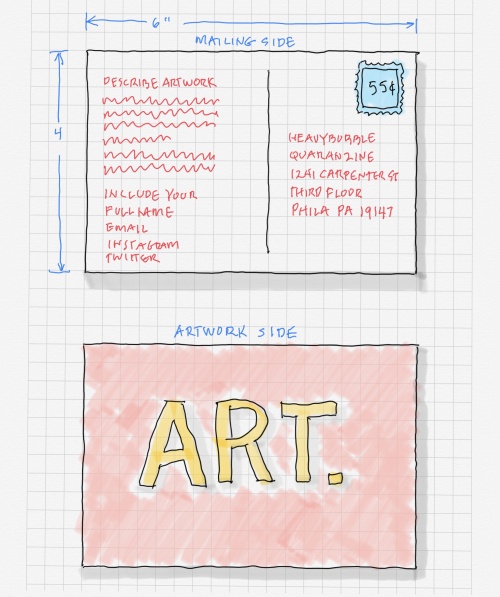 DEADLINE EXTENDED - Must be Postmarked by September 24, 2020
Vent, Chill, Stress. How's this pandemic been going for you? Did you lose anyone? Where did you stay? How did you stay amused and connected? What images are in your head? What is surprising you?
Express any of it, or anything on your mind, on a postcard.
SHOW
September 24 – October 24, 2020
Quaranzine19 Postcard Show
ARTSPACE1241
1241 Carpenter Street, Philadelphia
by appointment
Postcard sales to charity. $5 donation minimum per card - to feed people locally.

QUARANZINE19
Selected works published in a series of full-color zines.
These will be available at cost, the number of pages/zines depends on the number of submissions and selected pieces.
MAIL ART SUBMISSION INFO
4 x 6 inches. Enter up to 5. No fee. Not juried.
Mail it to Heavy Bubble (address below) postmarked by September 24, 2020.
Cards will be hung by pushpins or clips as they arrive, only front visible.
Must meet USPS requirements for mailing:
index card thickness, no thicker than 0.016 inches (two index cards thick)
no attachments
Postcards will not be returned to artist.