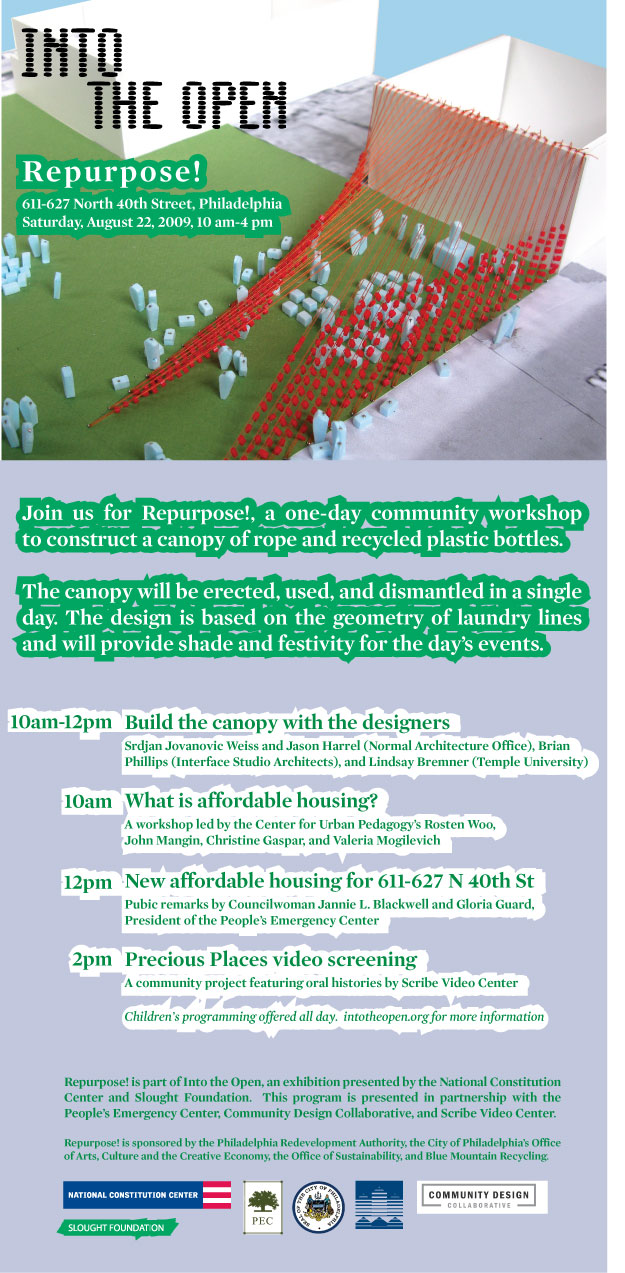 Saturday, August 22, 10:00 a.m. - 10:00 p.m.
611 North 40th Street, West Philadelphia
FREE
We saw this poster in a mailing and were intrigued by it. Imagine our surprise at how large a project this is. Repurpose! is just one in a number of events in an ambitious program in and around architecture and public space. We invite you to investigate the website and to engage in dialogue and action. Join in this workshop making temporary structures. Looks like making art to us. Make something and talk about it!
In the spirit of the civic activism promoted by the architects and designers featured in the Into the Open exhibition, the National Constitution Center and Slought Foundation present Repurpose!, a one-day community workshop and design competition highlighting the creative possibilities of urban revitalization in the Mantua neighborhood in West Philadelphia. The event will take place on a vacant lot at 611- 627 North 40th Street, currently slated to become the site of new affordable housing units.
The day will begin at 10am with a community workshop titled "What is affordable housing?," led by Rosten Woo of the Center for Urban Pedagogy. Presentations will be made at 12pm by Councilwoman Jannie L. Blackwell and Gloria Guard, President of the People's Emergency Center. Following their remarks, architects Srdjan Jovanovic Weiss (Normal Architecture Office), Brian Phillips (Interface Studio Architects), Lindsay Bremner, and Dave Beuge will lead workshops resulting in the creation of temporary structures such as an outdoor movie theater and shelter made from repurposed plastic bottles. The day will culminate with videos from the Precious Places Community History Project, a community oral history initiative produced by Scribe Video Center, beginning at 8pm in the movie theater.
The workshop is organized with support from the Philadelphia Redevelopment Authority, the City of Philadelphia's Office of Arts, Culture and the Creative Economy, and the City of Philadelphia's Office of Sustainability. Videos courtesy of Scribe Video Center. The plastic bottles used in the workshops are courtesy of Blue Mountain Recycling.
online registration for the workshop:
register here
-----
About the project:
Exhibit Duration: July 15 - September 07, 2009
Location: National Constitution Center and Slought Foundation | Contact Info
Reception: Friday, July 17, 2009 ; 6:00pm-9:00pm
Free to the public. | Reservation not required.
Exhibition Openings Series | Curated by Aaron Levy William Menking, Andrew Sturm
From July 15 to September 7, 2009, the National Constitution Center and Slought Foundation present Into the Open, an innovative exhibition featuring the work of 16 architectural groups. Through vibrant installations and displays, Into the Open explores the original ways architects are collaborating to foster civic engagement and build better communities. Immersive, bold, and interactive, the exhibition aims to inform, as well as encourage discussion and participation.
Chalkboard walls will line the exhibition, making it possible for visitors to share their comments, reactions, and ideas in response to the projects. In the interactive spirit of the exhibition, the Center will also engage the community by extending the exhibit experience outside the museum walls. The projects featured in the exhibition will be showcased at the National Constitution Center and the Slought Foundation on the campus of the University of Pennsylvania. Additionally, off-site community programming related to the exhibition is planned, in partnership with local organizations. (For more information: www.intotheopen.org)
"Philadelphia is proud to be the home of numerous civic organizations taking the lead in our nation's move towards sustainability and positive community engagement…". "This exhibition will highlight how individuals from all walks of life can play an integral role in creating transformative change."

- Philadelphia Mayor Michael A. Nutter